Jo Ann Bishop CD/PCD(DONA) Body Ready Method Pro
Jo Ann Bishop, Doula LLC
Milwaukee, WI
Service range 100 miles
Services provided anywhere in the U.S virtually

414-301-7729

https://joannbishopdoula.com
Birth Fee
$1150 to $1500
Postpartum Rate
$40 to $50
Availability Remarks: Virtual support available.
Birth Fee
$1150 to $1500
Postpartum Rate
$40 to $50
---
Birth Doula Experience
5 years
Postpartum Doula Experience
5 years
---
Birth Doula Certifications
DONA International - Certified Birth Doula
Postpartum Doula Certifications
DONA International - Certified Postpartum Doula
---
Doula Training
DONA International-Approved Workshop, December 2018
International Childbirth Education Association (ICEA), October 2019
Type of practice: Solo practice
Clients per month: 0 to 3 births and 0 to 2 postpartum families
Postpartum limits/restrictions: Non-smoking household. Postpartum plans vary from $480 to $1280. Fees may vary based on location and situation.
Attends hospital births? All Hospitals
Attends birth center births? All Birth Centers
Attends home births? No Home Births
---
---
Special Services Offered
Acupressure
Babywearing education
Childbirth education services
Cloth diapering education
First Aid and CPR
Lactation consultant/counselor services
Military families support
Mother blessing celebrations
Pelvic floor health education & support
Prenatal & postpartum fitness services
Reduced rates for women considering adoption
Satellite doula (for remote and rural clients)
Sibling support (for your older children at the birth)
Surrogates and intended parents
Virtual and remote doula support
---
Additional Credentials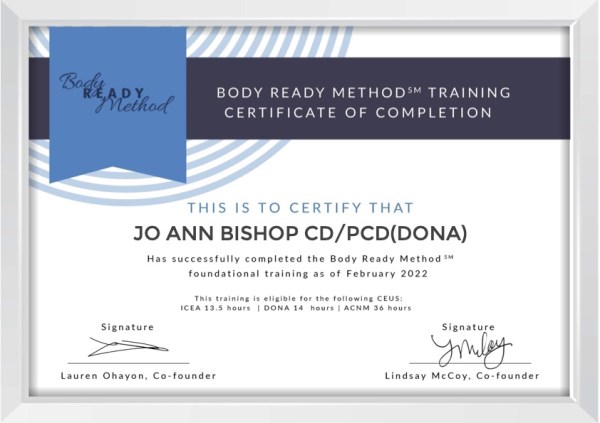 ---
Relevant volunteer or advocacy work
Military Birth Resource Network, Waukesha County Breastfeeding Coalition, Birth Fest Milwaukee Board Member
---
Fee Details
Each relationship with this certified, professional doula starts with a complimentary Meet and Greet. I get to know you and your expectations of a doula and lay out the specifics of my support. All plans include doula on call, continuous support during labor and delivery, post-delivery support for about two hours, postpartum visit within two weeks of birth, lactation support, referrals as needed, access to Doula'sDrive Resource Library of valuable information. As a certified Body Ready Method Pro, I incorporate the One Strong Mama approach to prepare you for less aches and pains in pregnancy, a more efficient birth, and a smoother recovery postpartum. Complete Plan is suggested for most people and includes three prenatal visits including practicing of comfort measures and laboring positions and a personalized Body Ready Method alignment assessment. In order to secure my services, a 50% retainer is required at time of contract signing. Balance due at end of 36th week of pregnancy.
Service Area
Milwaukee, WI
Service range 100 miles
Services provided anywhere in the U.S virtually