Rachel Connolly Kwock
CD(DONA), CLC
Morristown, NJ
Service range 30 miles
No bridges or tunnels. I do not serve NYC

917 676 7177

http://www.birthvoice.com/
Birth Fee
$1800 to $2200
Postpartum Rate
$50
Availability Remarks: Please contact Rachel to schedule a free consult.
Birth Fee
$1800 to $2200
Postpartum Rate
$50
---
Birth Doula Experience
12 years and 100 births attended
Postpartum Doula Experience
2 years and 5 families served
---
Birth Doula Certifications
DONA International - Certified Birth Doula
Postpartum Doula Certifications
Birth Arts International - Certified Postpartum Doula
---
Doula Training
DONA International-Approved Workshop, May 2010
Type of practice: Solo practice
Clients per month: 2 to 3 births and 1 to 2 postpartum families
Postpartum limits/restrictions: I do not do overnights and do not work in homes where there are people who smoke. Love pets.
Attends hospital births? All Hospitals
Hospitals: Morristown Medical Center, Newton, St. Clare's Denville, Chilton, Summit Overlook, St. Peter's New Brunswick, Valley Ridgewood, Pascack Valley
Attends birth center births? All Birth Centers
Yes - Morristown Our Birthing Center, Birth Center of NJ in Union, and St Peter's Birth Center
Attends home births? Some Home Births
Yes, when a licensed midwife is present.
---
---
Special Services Offered
Aromatherapy
Bereavement doula (pregnancy & infant loss)
Childbirth education services
Lactation consultant/counselor services
LGBTQIA+ Support
Military families support
Pelvic floor health education & support
Pregnancy, birth and/or newborn photography
TENS units rental
---
Additional Credentials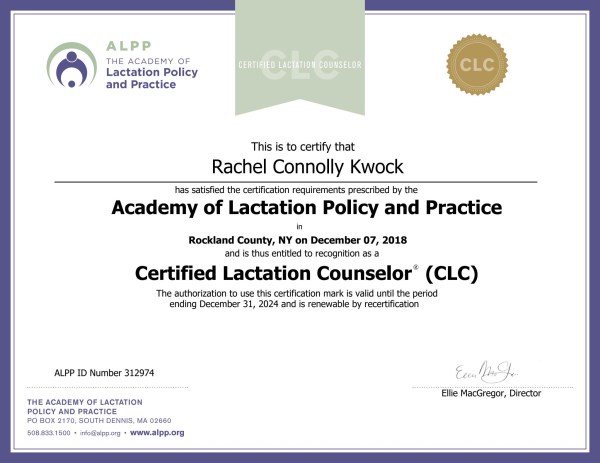 ---
Relevant volunteer or advocacy work
Rachel is an experienced doula who received her training via Penny Bussell Stansfield and DONA International. She has been practicing since 2011 with a focus on the hormones and physiologic birth as well as balance and fetal positioning. Her approach has been influenced by her 4.5 yrs of work experience as content creator for Orgasmic Birth as well study of Spinning Babies. Rachel resides in northern NJ with her husband and two teenage children. She volunteers with NNJDoulaNet.
Fee Details
Base Flat Rate for in-person services starts at $1800, paid in 3 installments, (10% off for Military & Repeat Clients) & includes one to two prenatal visits and one postpartum visits, in addition to additional prenatal/childbirth education as well as continuous attendance at your birth. Additional postpartum visits and/or Mini Photo Add-on ($350) can be added for fee (for existing clients only). POSTPARTUM Rate is $45 per hour (packages) for Birth Doula Clients, $50 per hour for pp only. 3-hour minimum shifts in Morris County, 4-hour minimum beyond.
Service Area
Morristown, NJ
Service range 30 miles
No bridges or tunnels. I do not serve NYC