Jacqueline Dyer
The Chosen Mother
New Hope, PA
Service range 50 miles

https://thechosenmother.com
Birth Fee
$1400
Postpartum Rate
$30 to $60
Birth Fee
$1400
Postpartum Rate
$30 to $60
---
Birth Doula Experience
0 years
Postpartum Doula Experience
0 years
---
Doula Training
Family Trees Doula School, February 2023
Type of practice: Solo practice
Clients per month: 0 to 4 births and 0 to 10 postpartum families
Attends hospital births? Some Hospitals
Will attend hospital births, depending on hospital policy regarding doula presence.
Attends birth center births? All Birth Centers
Attends home births? Any Home Birth
Supporting low risk, healthy pregnancies at home!
---
---
Special Services Offered
Aromatherapy
Baby sign language education
Baby-led weaning
Babywearing education
Childbirth education services
Military families support
Newborn care specialist
Parenting consulting
Prenatal & postpartum fitness services
Satellite doula (for remote and rural clients)
Sibling support (for your older children at the birth)
Sleep support consulting
Therapeutic bodywork
Virtual and remote doula support
---
Additional Credentials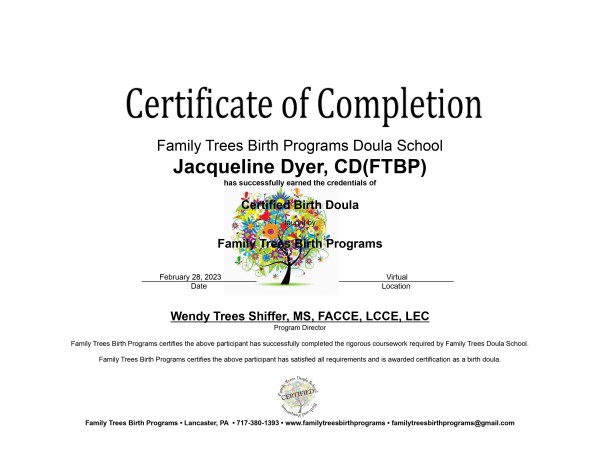 ---
Relevant volunteer or advocacy work
Cradle Pregnancy Resource Center Pro-Life Advocacy & Volunteer Work Sisters of Life - Coworker of Life
Fee Details
My goal as a doula is that as my client, you will feel supported, safe and empowered to labor and birth as you please. I believe anyone who wants a doula should have access to one, so my fee is flexible with a payment plan. My services include two prenatal visits (one visit for childbirth education if needed), on-call support starting at 37 weeks gestation, in-person support starting at the onset of active labor, and one postpartum visit.
Service Area
New Hope, PA
Service range 50 miles