Becca Love (RN, BSN)
Love to Birth Doula
Sheridan, IN
Service range 75 miles

https://www.lovetobirthdoula.com/
---
Birth Doula Experience
1 years and 9 births attended
---
Doula Training
DONA International-Approved Workshop, April 2022
Type of practice: Solo practice
Clients per month: 1 to 2
Attends hospital births? All Hospitals
As a former L&D nurse with 100 births supported in my time, I am knowledgable on the ins and out of navigating a birth in a hospital (induction, complications, spontaneous labor, natural, epidural and c-section(32 c-sections both planned and unplanned))
Attends birth center births? All Birth Centers
Attends home births? Any Home Birth
As someone who had a home birth myself, I am happy to support clients in the home setting with a midwife or as an unassisted/free birth.
---
---
Special Services Offered
Bereavement doula (pregnancy & infant loss)
Birth pool rental
Childbirth education services
Cloth diapering education
Elimination communication education
First Aid and CPR
Miscarriage support
Monitrice services
Reduced rates for women considering adoption
Satellite doula (for remote and rural clients)
Stillbirth and infant loss support
Virtual and remote doula support
---
Training Documentation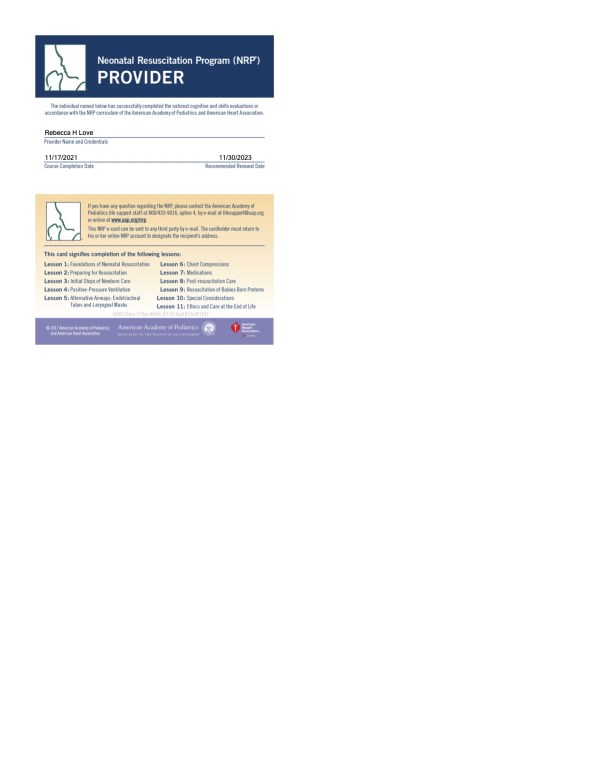 ---
Relevant volunteer or advocacy work
Certifications: -Bachelor of Science in Neuroscience from Purdue University -Bachelor of Science in Nursing from IU School of Nursing -Registered Nurse -Neonatal Resuscitation Program (NRP) certified -Basic Life Support (BLS + CPR) certified -Reteach Breech: breech and twins delivery workshop -IN PROGRESS: Doulas of North America (DONA)
---
Fee Details
Fee includes: free consult, 2-3 prenatal visits, labor, 2 postpartum visits, support via text/call. I believe every woman should be able to have a doula by her side during birth. Please don't hesitate to reach out regarding flexible payment plans! I am passionate about creating space to have the best birth for YOU and believe we are made to birth and encourage trust in your body as God made it. Every woman has different birth wishes when it comes to this life changing time. I will be your strong support system to help make informed decisions through your pregnancy to postpartum journey. With hands-on (or off if needed) care, I will help you navigate labor to meet your precious little one! I have a background as a labor and delivery nurse and loved that work, but as a doula I love forming a special connection with my clients through their entire experience leading up to and after birth as well as only being loyal to YOU as my client vs having to appease hospital policy as a nurse.
Service Area
Sheridan, IN
Service range 75 miles