Jessica Brandes BSN-RN CLD Hypnodoula
Holistic Hands Doula LLC
Nevada, IA
Service range 100 miles
Des Moines Metro and Central Iowa

5154608700

https://linktr.ee/holistichandsdoula
---
Medicaid and Third Party Insurers
Currently approved to receive payments from the following programs:
---
Birth Doula Experience
3 years and 39 births attended
---
Doula Training
Childbirth and Postpartum Professional Association (CAPPA), January 2022
Hypnobabies, May 2023
Type of practice: Solo practice
Clients per month: 1 to 4
Attends hospital births? All Hospitals
As long as Covid-19 policies allow, I will do all hospital work.
Attends birth center births? All Birth Centers
Attends home births? Some Home Births
Midwife must be present .
---
---
Special Services Offered
Antepartum doula support
Baby sign language education
Cloth diapering education
First Aid and CPR
Hypnosis for birth
Military families support
Miscarriage support
Reduced rates for women considering adoption
Satellite doula (for remote and rural clients)
Sibling support (for your older children at the birth)
Stillbirth and infant loss support
Surrogates and intended parents
TENS units rental
Virtual and remote doula support
---
Additional Credentials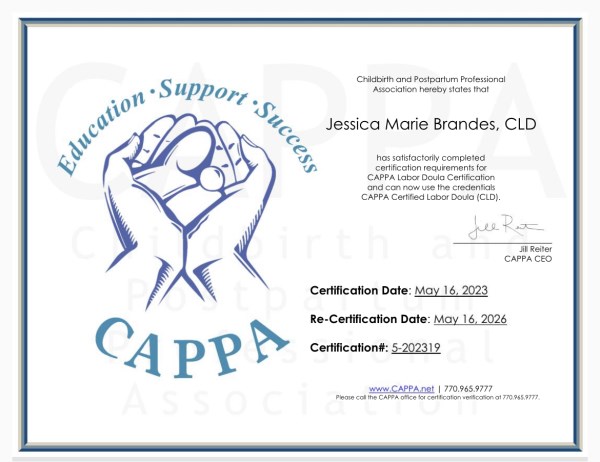 ---
Relevant volunteer or advocacy work
My mission is to change the birthing community one childbirth at at time and offer flexibility so that doula care is accessible to everyone locally and or remotely. I am a CAPPA member and CAPPA trained as a labor doula. I've been a nurse for over 12 years. I'm hynobabies trained and have additional training from Brilliant Birth Academy. I take hynobabies clients. During my free time I volunteer at my local church and at Mercy Medical Center. I offer in person birth services 750-1500$ as well as remote services . Fees are based upon requests and location. Add as many prenatal or postpartum visits as you'd like. Retainer required upon contract. My remote services are can be 1 hour sessions or be used up until pushing. I offer a discount to Military Families & first responders, nurses. I offer discounted rates and scholarships to women who consider adoption . I offer scholarships to those of low income and am flexible with payment plans . I offer placenta art for an additional fee. I take Tricare West as well Iowa Total Care through The Doula Network
---
Fee Details
As a CAPPA certified Birth Doula specializing in VBACs and VBacC2s. I have additional training Brilliant Birth Academy and Hynobabies, I work with families during pregnancy, labor, and during the post-partum period. I have experience with home births and hospital births, multiples, and take hynobabies clients. You can expect me to personalize your birth plan and doula package to your needs. You can add prenatal and postpartum visits to suit your needs. I require a 50$ retainer for holding your expected due date and the remaining fee by 36 weeks. I'm flexible and do payment plans. I accept Iowa Total Care through The Doula Network and accept Tricare West as an in network doula.
Service Area
Nevada, IA
Service range 100 miles
Des Moines Metro and Central Iowa