Diane Tabilo, LCSW, CD(DONA) - Bilingual
Contact me today for a free consult!
Warrenville, IL
Service range 30 miles

https://www.facebook.com/douladianetabilo
---
Birth Doula Experience
3 years and 46 births attended
---
Birth Doula Certifications
DONA International - Certified Birth Doula
---
Doula Training
DONA International-Approved Workshop, October 2019
Type of practice: Solo practice
Clients per month: 0 to 2
Attends hospital births? All Hospitals
Due to COVID-19, please ask your provider about the hospital's policy pertaining to who is allowed to attend your birth. Not all hospitals are the same. Some allow only one person, others allow your partner and a doula, some allow only certified doulas. While I may not be able to attend your birth at a hospital due to a hospital only allowing one person, I can help you labor as long as you like at home and then can continue to support you and your partner over the phone, whether that be via phone calls/text/video call, as needed, or continuously.
Attends birth center births? All Birth Centers
Attends home births? Some Home Births
I have had three most-wonderful home births myself! I attend hospital, birth centers, and home births. I do not attend unassisted home births.
---
---
Special Services Offered
Baby-led weaning
Cloth diapering education
Pregnancy, birth and/or newborn photography
Reduced rates for women considering adoption
Sibling support (for your older children at the birth)
Therapist or counselor
Virtual and remote doula support
---
Additional Credentials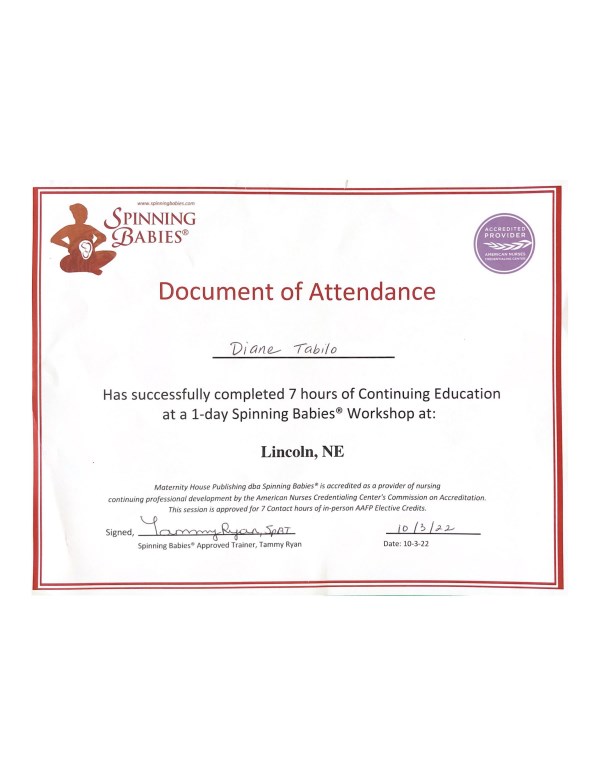 ---
Relevant volunteer or advocacy work
Compassionate support you deserve and information you need, for the most beautiful birth experience. Providing warm, down-to-earth, and knowledgeable support prenatally, all of labor/birth, and postpartum. I am a Licensed Clinical Social Worker and have previously worked as a Bilingual Youth & Family Therapist at a community-based agency, as well as a school social worker. I currently have a minimal caseload at Cedar Tree Counseling (https://cedartreecounseling.com/diane-tabilo/). ~~~ I have volunteered at Pregnancy Information Center in Aurora as a prenatal class instructor and interned at Lakeshore Pregnancy Center in Holland, MI as a client advocate. ~~~ I am trained in Spinning Babies. (https://www.spinningbabies.com/) ~~~ I care deeply for women, children, and families.
---
Fee Details
$1200 includes one prenatal meeting, continuous labor support, immediate postpartum and breastfeeding support, postpartum visit, and availability to be your birth resource via phone/email prenatally and postpartum. ~~~ $1400 includes all the above in addition to photography of the birth. ~~~ Reduced rate for women considering adoption or abortion, teen moms, and refugees. ~~~ Contact me for a free consultation!
Service Area
Warrenville, IL
Service range 30 miles