NANETTE MCCANN
A Caring Season Doula
Plaquemine, LA
Service range 45 miles

3373562516

https://acaringseasondoula.com/
Birth Fee
$750 to $1025
Postpartum Rate
$70
Availability Remarks: Postpartum home visits are at your convenience. This includes access in text messages too. I can schedule virtual sessions for you to feel better supported.
Birth Fee
$750 to $1025
Postpartum Rate
$70
---
Birth Doula Experience
4 years and 4 births attended
Postpartum Doula Experience
4 years and 4 families served
---
Birth Doula Certifications
Sista Midwife Productions - Certified SMP Community Birth Sister/Certified SMP Doula
---
Doula Training
Sista Midwife Productions, March 2019
International Childbirth Education Association (ICEA), June 2023
Type of practice: Solo practice
Clients per month: 1 to 2 births and 1 to 2 postpartum families
Postpartum limits/restrictions: No cats, no smokers,
Attends hospital births? All Hospitals
Not allowed in Cesarean births.
Attends birth center births? All Birth Centers
Birth centers are more flexible with doula support.
Attends home births? Any Home Birth
I would if this is the choice of the family.
---
---
Special Services Offered
Aromatherapy
Babywearing education
First Aid and CPR
Military families support
Mother blessing celebrations
Newborn care specialist
Parenting consulting
Prenatal & postpartum fitness services
Prenatal or postnatal massage
Satellite doula (for remote and rural clients)
Sibling support (for your older children at the birth)
Virtual and remote doula support
---
Additional Credentials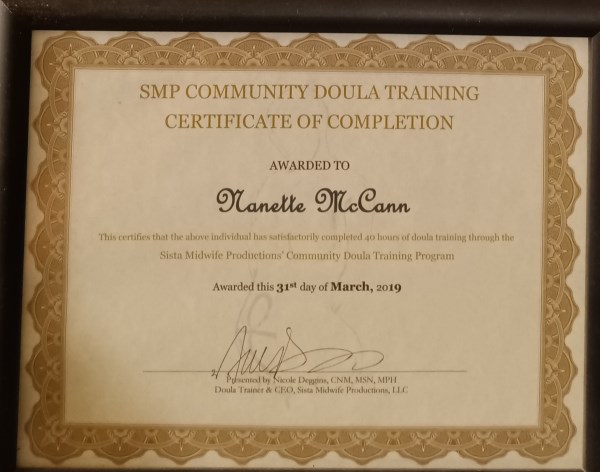 ---
Relevant volunteer or advocacy work
Current. Sears Wellness Institute certified Pregnancy Health Coach for pregnancy and postpartum. Louisiana Doula Registry Board Member Region 2, Volunteer for Woman's Hospital Health Equity advisory committee. Volunteer Doula with Mary's Hands Network in Baton Rouge Louisiana. The Louisiana Department of Education, Early Childhood is the agency that has employed me of the past five years. I've worked with the Department of Children and Family Services for nine years.
---
Fee Details
A Caring Season Doula support can give families a more flexible wellness care model. Individual Peaceful Pregnancy sessions, or Nutritional consults are centered around you and your specific prenatal and postpartum care needs. My main focus is providing guidance throughout your pregnancy journey, including being a birth companion, and connecting in postpartum. Contracts and gift vouchers are available for the full doula birth & wellness packages. You can book services directly online.
Service Area
Plaquemine, LA
Service range 45 miles