Laura McCarthy, PCD(DONA)
Wear Your Little One
Pittsburgh, PA
Service range 25 miles

412.721.7291

http://www.wearyourlittleone.com
Availability Remarks: Working hours between 7am and 9pm. Overnights are not available.
---
Postpartum Doula Experience
8 years and 45 families served
---
Postpartum Doula Certifications
DONA International - Certified Postpartum Doula
Pennsylvania Certification Board - Certified Perinatal Doula
---
Doula Training
DONA International-Approved Workshop, June 2015
Type of practice: Partnership with 1 other doula
Clients per month: 1 to 2
---
---
Special Services Offered
Abortion support
Babywearing education
Cloth diapering education
Parenting consulting
Surrogates and intended parents
Therapist or counselor
Virtual and remote doula support
---
Additional Credentials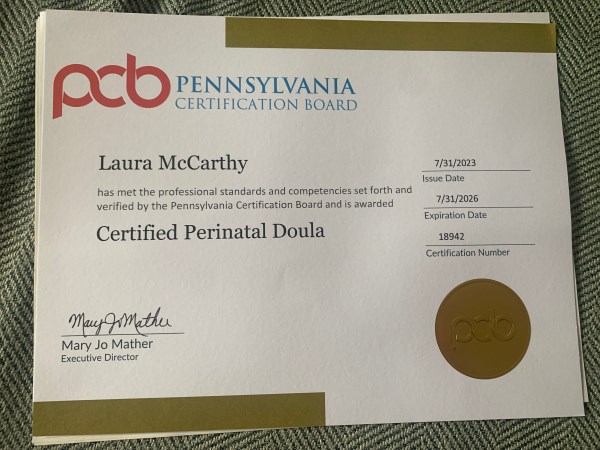 ---
Relevant volunteer or advocacy work
Member of Postpartum Support International, past volunteer facilitator for Out of the Blue, a perinatal mental health support group for birthing people, volunteer admin for Birthworkers of Western PA, volunteer at Three Rivers Free Clinic for the people, part time instructor at the University of Pittsburgh School of Social work.
Fee Details
$30 per hour flat rate, 4 hour minimum shift. 30 minutes total travel time included. $10 per additional 15 minutes travel time will be added on for longer commutes. Reduced cost services may be available on a case by case basis, please ask if needed.
Service Area
Pittsburgh, PA
Service range 25 miles