Susan Petrus
BirthWise in Birmingham
Birmingham, AL
Service range 50 miles
Additional fees for travel may apply for clients who live outside of Birmingham

205-222-0343

http://www.birthwiseinbirmingham.com
---
Birth Doula Experience
10 years and 90 births attended
---
Birth Doula Certifications
DONA International - Certified Birth Doula
---
Doula Training
DONA International-Approved Workshop, April 2013
Type of practice: Group practice with shared call schedule
Clients per month: 1 to 3
Attends hospital births? All Hospitals
Attends birth center births? All Birth Centers
Attends home births? Some Home Births
I will attend home births if there is a trained provider present.
---
---
Special Services Offered
Birth pool rental
Childbirth education services
LGBTQIA+ Support
Virtual and remote doula support
---
Additional Credentials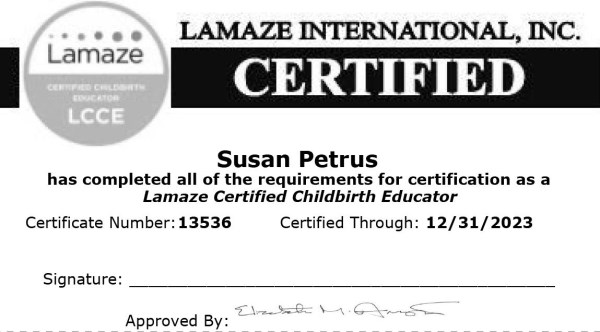 ---
Relevant volunteer or advocacy work
Co-founder and Executive Director of Business Operations for BirthWell Partners, a nonprofit community doula program serving the Greater Birmingham Area of Alabama. Lamaze certified childbirth educator with 10 years of experience. Former Regional Director and President of the Alabama Birth Coalition. Screenwriter and producer of "You Begin This Way," a film about birth options in Alabama.
---
Fee Details
My package includes 2 prenatal visits, 1 childbirth class, access to a digital breastfeeding program, continuous labor support, and 1 postpartum visit, as well as phone/text/email support throughout. There may be discounts depending on the situation (such as for repeat clients and for taking childbirth classes ) and the client's needs. Every year I take a few clients on a sliding scale. In addition, those who qualify for Medicaid can contact me for information about BirthWell Partners community doula project (www.birthwellpartners.org).
Service Area
Birmingham, AL
Service range 50 miles
Additional fees for travel may apply for clients who live outside of Birmingham