Tabatha Seppala
Delamere Wellness LLC
Palm Coast, FL
Service range 30 miles

3863530335

https://www.delamerewellness.com
Birth Fee
$0 to $2500
Postpartum Rate
$15 to $55
Availability Remarks: I have a limit of 6 hours of postpartum care. Part-time nanny contracts are separate from doula work.
Birth Fee
$0 to $2500
Postpartum Rate
$15 to $55
---
Medicaid and Third Party Insurers
Currently approved to receive payments from the following programs:
---
Birth Doula Experience
18 years and 116 births attended
Postpartum Doula Experience
18 years and 27 families served
---
Birth Doula Certifications
ProDoula - Certified Birth Doula
Postpartum Doula Certifications
Birth Arts International - Certified Postpartum Doula
---
Doula Training
ProDoula, November 2022
Birth Arts International, January 2023
Type of practice: Partnership with 1 other doula
Clients per month: 2 to 4 births and 2 to 4 postpartum families
Attends hospital births? All Hospitals
Hospital permitting
Attends birth center births? All Birth Centers
Midwife permitting
Attends home births? Any Home Birth
Yes
---
---
Special Services Offered
Abortion support
Acupressure
Antepartum doula support
Aromatherapy
ASL (American Sign Language)
Baby sign language education
Baby-led weaning
Bereavement doula (pregnancy & infant loss)
Birth counseling for survivors of childhood sexual abuse
Birth pool rental
Cancer patients and survivors
Childbirth education services
End of life doula services
First Aid and CPR
Infant massage education
Lactation consultant/counselor services
LGBTQIA+ Support
Military families support
Miscarriage support
Monitrice services
Parenting consulting
Pelvic floor health education & support
Reduced rates for women considering adoption
Satellite doula (for remote and rural clients)
Sibling support (for your older children at the birth)
Sleep support consulting
Stillbirth and infant loss support
Surrogates and intended parents
TENS units rental
Therapeutic bodywork
Virtual and remote doula support
---
Additional Credentials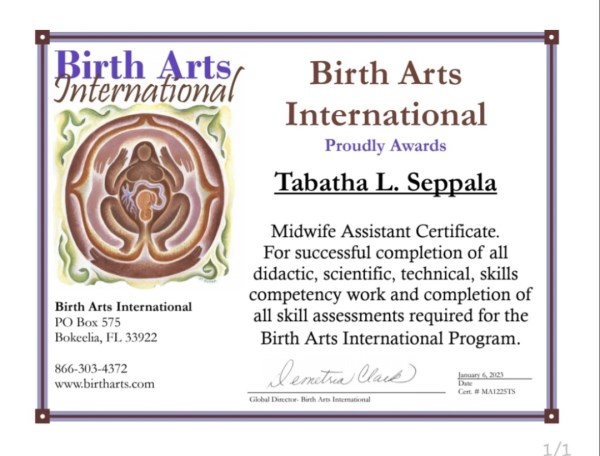 ---
Relevant volunteer or advocacy work
Alpha Women's Center Volunteer Spanish Speaking Liaison (Current) African American Entrepreneurs Association Ambassador (Current) National Black Doula Association Member (Current) Immigrant Families Together (Current) The Volusia Tribe Community Pregnancy Clinic Volunteer Birth Assistant (2022-2023) Frederick County Public Schools West Frederick Middle School and Feeder Schools Pregnancy Resource (Frederick, MD 2019-2021)
Languages Spoken
American Sign Language
English
Spanish
---
Fee Details
All services are provided on a sliding sale and I do accept most medicaid plans.
Service Area
Palm Coast, FL
Service range 30 miles