Ciante Smith
The Poetic Doula
Raleigh, NC
Service range 90 miles

9193491787

https://www.facebook.com/profile.php?id=100086789257412
Black Doula
Indigenous/Aboriginal Doula
---
Birth Doula Experience
1 years and 5 births attended
---
Doula Training
DONA International-Approved Workshop, September 2022
Type of practice: Solo practice
Clients per month: 1 to 3
Attends hospital births? All Hospitals
Ciante does attend hospital births. Ciante will ask for preferred location.
Attends birth center births? All Birth Centers
Ciante does attend birth centers. Ciante will ask for preferred location.
Attends home births? Any Home Birth
Ciante does attend home births. Ciante will ask for preferred location. If birthing pool is needed, Ciante will provide.
---
---
Special Services Offered
Antepartum doula support
Aromatherapy
Birth pool rental
Childbirth education services
LGBTQIA+ Support
Miscarriage support
Prenatal or postnatal massage
Sibling support (for your older children at the birth)
Surrogates and intended parents
Vaginal steam/peristeam services
Virtual and remote doula support
---
Additional Credentials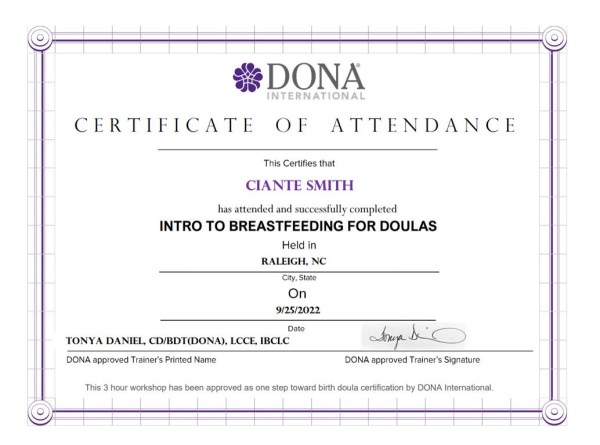 ---
Relevant volunteer or advocacy work
Ciante has notable experience in supporting mothers and expecting families. She is well-informed on the process of pregnancy, birth, and postpartum. Ciante has 9 siblings and over 14 nieces, nephews, and godchildren that she cares for. She has attended births amongst her family and close friends and really enjoys the profession as she sees fit. She is looking to expand her work by providing doula support while uplifting families during each clients' unique pregnancy journey. Ciante has an interest in natural health development, including emotional and mental support, as well as holistic health ideals and practices.
---
Fee Details
I am an entry-level doula worker. I have attended the workshops and am mentored by a DONA-certified birth doula. I have assisted in five births from 2022-2023. The fee charged for my doula services will cover all costs associated with making your birth experience as comfortable and pleasurable as possible. Included in the price will be the purchase of birth goodies/items, from pre-birth to postpartum for mom and baby. Price is negotiable dependent upon services needed.
Service Area
Raleigh, NC
Service range 90 miles