Shanita Joy Murray, RN BSN CD CPD CBC CBE CPNE
Choosing Joy
Plainfield, NJ
Service range 35 miles
Servicing NJ, NY (Staten Island & Lower Manhattan), and Parts of Pennsylvania (King of Prussia, Philadelphia, Allentown, Bethlehem & Easton)

9084564187

https://www.iamchoosingjoy.net
Birth Fee
$1850 to $3500
Postpartum Rate
$65 to $75
Black Doula
Indigenous/Aboriginal Doula
Birth Fee
$1850 to $3500
Postpartum Rate
$65 to $75
---
Birth Doula Experience
2 years and 34 births attended
Postpartum Doula Experience
2 years and 15 families served
---
Birth Doula Certifications
International Doula Institute - Certified Birth Doula
Postpartum Doula Certifications
International Doula Institute - Certified Postpartum Doula
---
Doula Training
International Doula Institute, May 2021
Type of practice: Solo practice
Clients per month: 1 to 4 births and 1 to 2 postpartum families
Postpartum limits/restrictions: No smokers, no cats
Attends hospital births? All Hospitals
Attends birth center births? All Birth Centers
Approved doula with the Birthing Center of New Jersey
Attends home births? Some Home Births
No free births. CNM/CPM assisted, low risk individuals preferred (no insulin dependent gestational diabetes, breech presentations, placental or hypertensive issues.
---
---
Special Services Offered
Aromatherapy
Babywearing education
Childbirth education services
First Aid and CPR
Lactation consultant/counselor services
LGBTQIA+ Support
Miscarriage support
Sibling support (for your older children at the birth)
Stillbirth and infant loss support
Virtual and remote doula support
---
Additional Credentials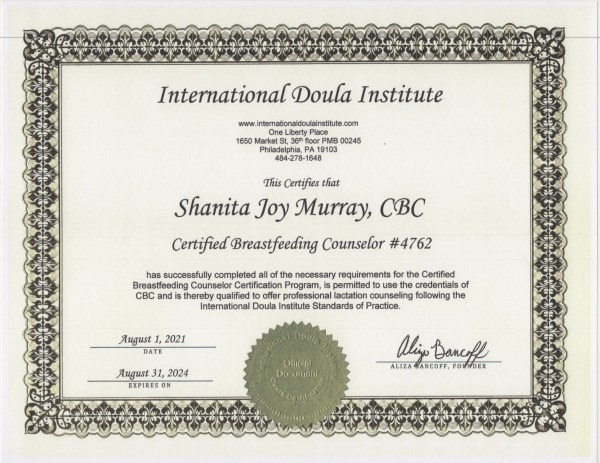 ---
Relevant volunteer or advocacy work
I have been a registered nurse for 15 years with experience in several areas including labor & delivery. I am certified as a birth and postpartum doula, as well as a childbirth and perinatal educator. I also hold a certification in lactation counseling (with 90 hours toward becoming an Internationally Board Certified Lactation Consultant). In addition, I am trained in home birthing and I specialize in twin births, waterbirths and NICU graduate postpartum clients. My background includes over 2,000 hours of delivery, operating room/recovery room and breastfeeding experience. There is a profound need for ongoing support and nurturing along the childbirth continuum. I'm an advocate for all women, especially those in the black community as maternal mortality disparities are great. I have collaborated with YoungLives to promote positive birth outcomes within this demographic. I've also partnered with Pacify Health as a virtual doula, providing care to underserved populations via Medicaid. I am a proud member of the National Black Doula Association and Sigma Theta Tau Nursing Honor Society. Think of me as comparable to a wedding planner for your pregnancy needs and beyond! From prenatal to postpartum care, I take pride in facilitating the process of women owning their journeys as they navigate motherhood.
---
Fee Details
Childbirth Doula Package (starting at $1850) Includes: 2 prenatal appointments, labor support from active phase to 1 hour post-delivery, lactation support, telephone/text, and email support and 1 postpartum visit w/ 6 weeks telehealth support. Postpartum Doula Package (starting at $65/hour) Includes: assistance with postpartum recovery, assistance with newborn care, light housework, running errands, light meal prepping, breastfeeding support, sibling care and referral to local resources. Lactation Counseling Session (starting at $75/hr)- Breastfeeding is natural, however finding a rhythm doesn't always happen naturally. This 1-hour session is designed to increase confidence and empower you while nursing! I assess and troubleshoot common breastfeeding hang-ups in real time.
Service Area
Plainfield, NJ
Service range 35 miles
Servicing NJ, NY (Staten Island & Lower Manhattan), and Parts of Pennsylvania (King of Prussia, Philadelphia, Allentown, Bethlehem & Easton)