Rebecca Scott, CD(M)
From the Heart Birth
Pottstown, PA
Service range 35 miles
Cannot commute into the city of Philadelphia

4845580918

https://www.fromtheheartbirth.com/
Birth Fee
$850 to $1000
Postpartum Rate
Not specified
Availability Remarks: I offer a postpartum package for 90 daytime hours within the first 6-8 weeks after birth as a transition into parenthood feeling fully supported!
Birth Fee
$850 to $1000
Postpartum Rate
Not specified
---
Birth Doula Experience
1 years and 20 births attended
Postpartum Doula Experience
1 years and 4 families served
---
Birth Doula Certifications
Madriella Doula Network - Certified Labor Doula
Postpartum Doula Certifications
Madriella Doula Network - Certified Postpartum Doula
---
Doula Training
Childbirth and Postpartum Professional Association (CAPPA), June 2021
Birthing From Within, September 2021
Madriella, August 2022
Type of practice: Solo practice
Clients per month: 1 to 3 births and 1 postpartum families
Postpartum limits/restrictions: If you smoke inside your home (vape, cigs, or THC products) I'm not a good match! Good with all pets. Not currently offering overnights.
Attends hospital births? All Hospitals
I attend both medicated and unmedicated births
Attends birth center births? All Birth Centers
Attends home births? Some Home Births
Attended by a midwife
---
---
Special Services Offered
Abortion support
Antepartum doula support
Aromatherapy
Childbirth education services
First Aid and CPR
Hypnosis for birth
LGBTQIA+ Support
Newborn care and parenting classes
Newborn care specialist
Parenting consulting
Reduced rates for women considering adoption
Satellite doula (for remote and rural clients)
Surrogates and intended parents
Virtual and remote doula support
---
Additional Credentials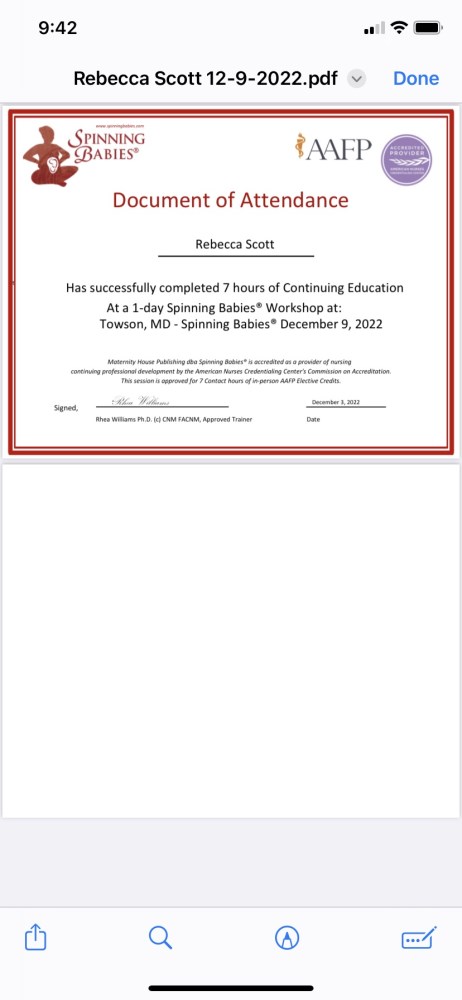 ---
Relevant volunteer or advocacy work
B4 Family Village in Royersford, PA
---
Fee Details
Thanks for taking a look at my services! I have several different package options available on my website so families can decide what works best for them. I truly believe everyone deserves a doula. I have a wide range of experience and take multiple continuing education opportunities every year. Please check out my website to see the full scope of different services that I offer, as well as get to know me a little more! I have HypoBabies education for those interested in birth hypnosis.
Service Area
Pottstown, PA
Service range 35 miles
Cannot commute into the city of Philadelphia