Dominique Vincent, CD
Pregnancy Birth and Parenting Co.
Plano, TX
Service range 37 miles

4692155025

https://www.pregnancybirthandparentingco.com
---
Birth Doula Experience
5 years
---
Birth Doula Certifications
Commonsense Childbirth Institute - Certified Doula
---
Doula Training
DONA International-Approved Workshop, April 2013
Commonsense Childbirth Institute, March 2021
Type of practice: Solo practice
Clients per month: 0 to 4
Attends hospital births? All Hospitals
Attends birth center births? All Birth Centers
Attends home births? Any Home Birth
---
---
Special Services Offered
Abortion support
ASL (American Sign Language)
Baby sign language education
Baby-led weaning
Babywearing education
Bereavement doula (pregnancy & infant loss)
Childbirth education services
Cloth diapering education
Infant massage education
Lactation consultant/counselor services
LGBTQIA+ Support
Military families support
Miscarriage support
Mother blessing celebrations
Newborn care specialist
Parenting consulting
Placenta encapsulation
Satellite doula (for remote and rural clients)
Surrogates and intended parents
TENS units rental
Virtual and remote doula support
---
Additional Credentials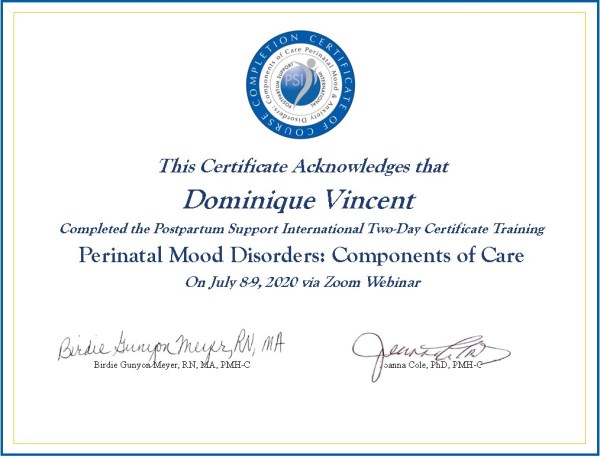 ---
Relevant volunteer or advocacy work
Volunteer - Abide Women's Health Services Dallas, TX Board Member - Prevention and Treatment of Traumatic Childbirth PATTCh Education Review Board Member - InJoy Health Education Tarrant County Nurse Family Partnership - Community Advisory Board
---
Fee Details
Hello, I provide a variety of services and offer packages at various price points. Let's find something that works for you. Payment is flexible and you may even be able to get services covered or reimbursed through your health insurance plan (My NPI # is 1134703556). Other ways to pay for a doula include using your FSA, HSA, HRA or through Be Her Village. Pay for your prenatal and postnatal support team with https://behervillage.com/partners/pregnancybirthparentingco. The gift registry for moms. Get cash in your account to pay for the services you need and deserve.
Service Area
Plano, TX
Service range 37 miles