Maybelline Valenti
SWFL Doula, LLC
Cape Coral, FL
Service range 50 miles

https://swfldoula.com/
Birth Fee
$1750
Postpartum Rate
$45
Availability Remarks: There is a minimum of 12 hours package, that must be paid in full prior to the start day. I do not offer overnight postpartum support at this time.
Birth Fee
$1750
Postpartum Rate
$45
---
Birth Doula Experience
3 years and 6 births attended
Postpartum Doula Experience
3 years and 5 families served
---
Birth Doula Certifications
ProDoula - Certified Birth Doula
Postpartum Doula Certifications
ProDoula - Certified Postpartum & Infant Care Doula
---
Doula Training
DONA International-Approved Workshop, April 2021
DONA International-Approved Workshop, June 2021
Family Trees Birth Programs, August 2021
Type of practice: Solo practice
Clients per month: 1 births and 1 to 3 postpartum families
Postpartum limits/restrictions: No overnight postpartum support
Attends hospital births? All Hospitals
Attends birth center births? All Birth Centers
Attends home births? Some Home Births
All home births attended by a midwife and as long as you don't have the intention of having an unassisted birth.
---
---
Special Services Offered
Antepartum doula support
Baby-led weaning
Bereavement doula (pregnancy & infant loss)
Childbirth education services
Cloth diapering education
First Aid and CPR
Miscarriage support
Newborn care specialist
Parenting consulting
Satellite doula (for remote and rural clients)
Virtual and remote doula support
---
Additional Credentials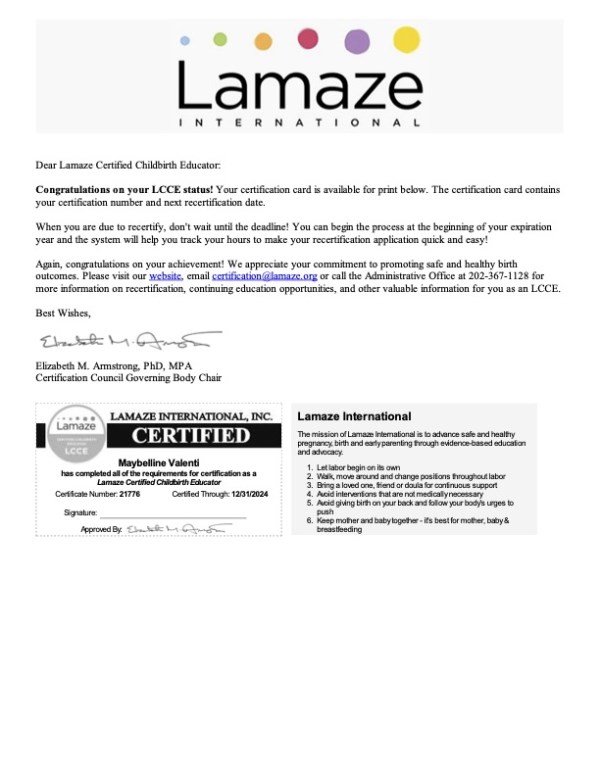 ---
---
Fee Details
To secure services, there is a $540 retainer fee. You must pay the entirety of the fee by 36 weeks of pregnancy. The birth doula fee includes: * 2 prenatal meetings (up to 90 minutes each), * Attending the birth, for up to 16 hours. * Three-hour postpartum visit during the first 2 weeks following the birth, * Text/phone call support from 8 am - 5 pm from the moment you sign the contract all the way to the postpartum visit. I have trained with Michel Odent, Liliana Lammers, and Ina May Gaskin.
Service Area
Cape Coral, FL
Service range 50 miles