Maybelline Valenti
SWFL Doula, LLC
Cape Coral, FL
Service range 50 miles

https://swfldoula.com/
Birth Fee
$1350
Postpartum Rate
$35
Availability Remarks: For Day time postpartum support there is a minimum of 12 hours contract, that can be divided into two shifts of 6 hours each or 3 shifts of 4 hours each). I do not offer overnight postpartum support.
Birth Fee
$1350
Postpartum Rate
$35
---
Birth Doula Experience
2 years and 4 births attended
Postpartum Doula Experience
2 years and 5 families served
---
Birth Doula Certifications
ProDoula - Certified Birth Doula
Postpartum Doula Certifications
ProDoula - Certified Postpartum & Infant Care Doula
---
Doula Training
DONA International-Approved Workshop, April 2021
DONA International-Approved Workshop, June 2021
Family Trees Birth Programs, August 2021
Type of practice: Solo practice
Clients per month: 1 to 2 births and 1 to 3 postpartum families
Postpartum limits/restrictions: No overnight postpartum support
Attends hospital births? All Hospitals
Attends birth center births? All Birth Centers
Attends home births? Some Home Births
All home births attended by a midwife and as long as you don't have the intention of having an unassisted birth.
---
---
Special Services Offered
Antepartum doula support
Baby-led weaning
Bereavement doula (pregnancy & infant loss)
Childbirth education services
Cloth diapering education
First Aid and CPR
Miscarriage support
Newborn care specialist
Satellite doula (for remote and rural clients)
Virtual and remote doula support
---
Additional Credentials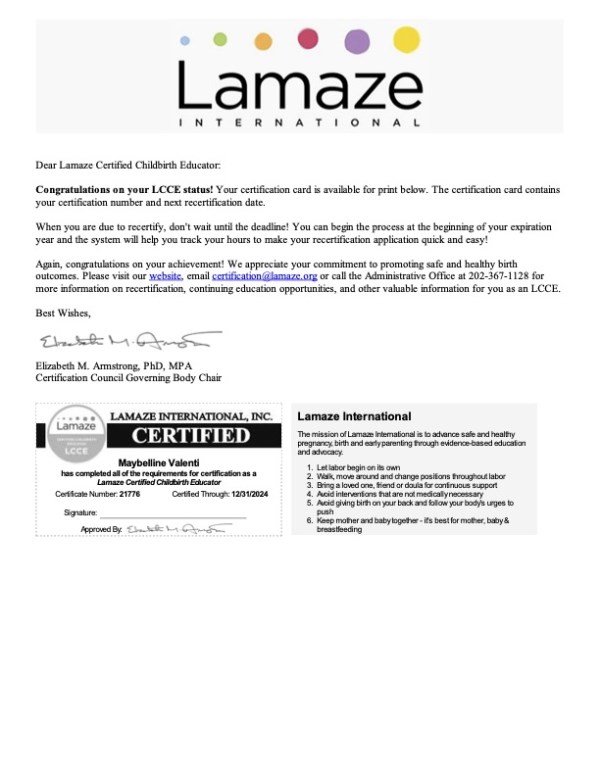 ---
---
Fee Details
The birth doula fee includes: * 2 prenatal meetings (60 minutes each), * Attending the birth, * One-hour postpartum visit during the first 2 weeks following the birth (online or in-person), * Text/phone call support from 8 am - 5 pm during the contracted timeframe. I have trained with Michel Odent, Liliana Lammers, and Ina May Gaskin.
Service Area
Cape Coral, FL
Service range 50 miles