Brandie McGowan
Births And Beyond
Palm Harbor, FL
Service range 30 miles

8135060256

https://birthsandbeyond.com/
Birth Fee
$75 to $1250
Postpartum Rate
$35
Availability Remarks: Free 20-minute consultations. Medicaid Plans Accepted
Birth Fee
$75 to $1250
Postpartum Rate
$35
---
Medicaid and Third Party Insurers
Currently approved to receive payments from the following programs:
---
Birth Doula Experience
11 years and 62 births attended
Postpartum Doula Experience
2 years and 25 families served
---
Birth Doula Certifications
Madriella Doula Network - Certified Labor Doula
Postpartum Doula Certifications
Madriella Doula Network - Certified Postpartum Doula
---
Doula Training
Type of practice: Solo practice
Clients per month: 1 to 2 births and 2 to 4 postpartum families
Postpartum limits/restrictions: Non-Smoking preferred.
Attends hospital births? All Hospitals
Attends birth center births? All Birth Centers
Attends home births? Any Home Birth
---
Special Services Offered
Abortion support
Antepartum doula support
Bereavement doula (pregnancy & infant loss)
Childbirth education services
End of life doula services
First Aid and CPR
Lactation consultant/counselor services
LGBTQIA+ Support
Military families support
Miscarriage support
Placenta encapsulation
Pregnancy, birth and/or newborn photography
Reduced rates for women considering adoption
Satellite doula (for remote and rural clients)
Sibling support (for your older children at the birth)
Surrogates and intended parents
TENS units rental
Virtual and remote doula support
---
Additional Credentials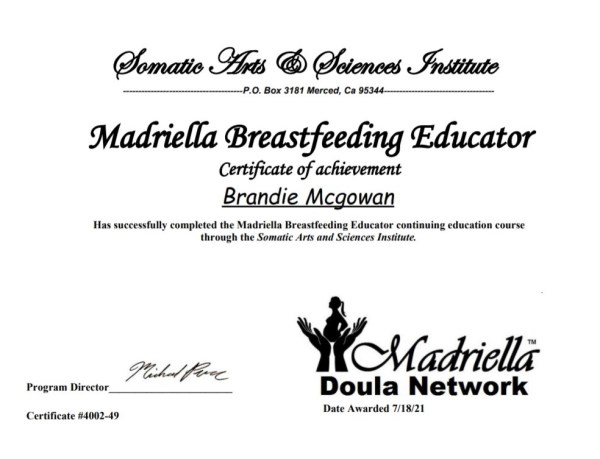 ---
Relevant volunteer or advocacy work
Volunteer at Empath Hospice Volunteer for Project TeenBirth, Inc.
---
Fee Details
Discounted Placenta Encapsulation for current or repeat clients. I offer Encapsulation, salve, tincture, placenta prints and cord keepsakes
Service Area
Palm Harbor, FL
Service range 30 miles