Jocelyn Skinner CD(DONA) LCCE
Beautiful Beginnings Doula Services
Bremerton, WA
Service range 18 miles
No ferries, hood canal bridge is ok if you are birthing at home or in Kitsap co.

425-280-6219

http://www.bbdoulaservices.com/home.html
Birth Fee
$1400
Postpartum Rate
$40 to $45
Availability Remarks: Postpartum client scheduling is on an individual basis and needs to be flexible if I have another client go into labor. I generally work from 9 am to no later than 10 pm, Monday thru Friday.
Birth Fee
$1400
Postpartum Rate
$40 to $45
---
Medicaid and Third Party Insurers
Currently approved to receive payments from the following programs:
---
Birth Doula Experience
7 years and 108 births attended
Postpartum Doula Experience
1 years and 7 families served
---
Birth Doula Certifications
DONA International - Certified Birth Doula
Postpartum Doula Certifications
ProDoula - Certified Postpartum & Infant Care Doula
---
Doula Training
DONA International-Approved Workshop, April 2016
PALS Doulas, February 2017
International Childbirth Education Association (ICEA), November 2019
ProDoula, November 2022
Type of practice: Solo practice
Clients per month: 1 to 2 births and 1 to 2 postpartum families
Postpartum limits/restrictions: No night shifts, only light housekeeping, no smokers, 4 to 6 hour shifts, day and evening shifts, no later than 10 pm. I'll mask if there is a risk that I was exposured to illness but otherwise prefer not to. I will reschedule if I'm sick or if you are.
Attends hospital births? Some Hospitals
I am happy to support your birth at hospitals in my area. Advocating for my clients in the hospital setting is something I enjoy and feel is a vital part of my role as your Doula.
Attends birth center births? All Birth Centers
I believe that a birth center can be the perfect compromise between hospital and home birth, providing a satisfying birth experience. I especially love the large tubs and calm private atmosphere which provides space for my clients to labor at their own pace.
Attends home births? Any Home Birth
I love the laid back, private atmosphere of a midwife attended home birth and love attending them. Home births are so special and intimate. It is super nice not to have to transport while in active labor.
---
Special Services Offered
Acupressure
Cancer patients and survivors
Childbirth education services
First Aid and CPR
LGBTQIA+ Support
Military families support
Miscarriage support
Newborn care specialist
Pregnancy, birth and/or newborn photography
Reduced rates for women considering adoption
Sibling support (for your older children at the birth)
TENS units rental
Virtual and remote doula support
---
Additional Credentials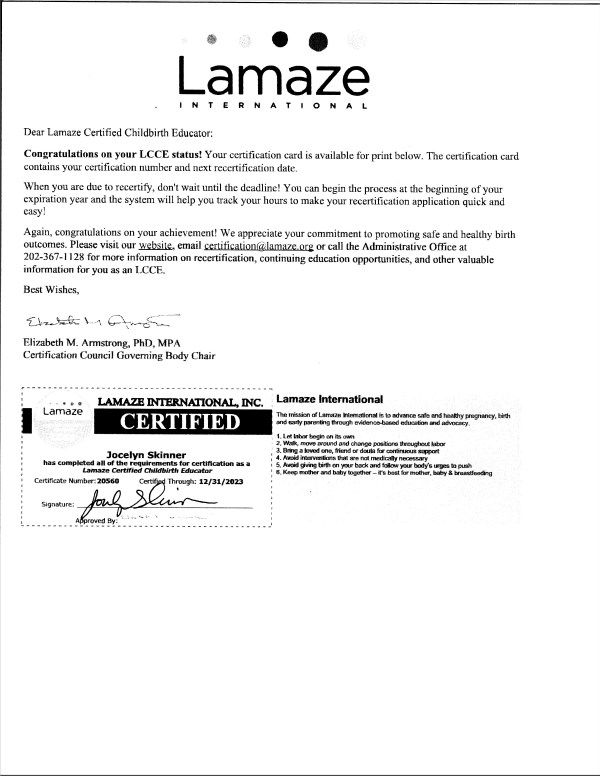 ---
Relevant volunteer or advocacy work
I have volunteered as a birth doula at the Pregnancy Resource Center of Everett working with young, single and teen moms in the Expecting Miracles program, Eastside Youth Services and Step by Step.
---
Fee Details
My birth fee is a flat fee and my postpartum fee is hourly. A 10% discount is given for active duty military, veterans, law enforcement families and repeat clients. On call service for my birth doula clients from about 37 weeks until delivery, 2 prenatal visits, continuous presence during your labor and birth, 2 postpartum visits. Referrals to other birth professionals as needed and access to my video and book library. Please see my website for more detailed fee information and to view my client agreement.
Service Area
Bremerton, WA
Service range 18 miles
No ferries, hood canal bridge is ok if you are birthing at home or in Kitsap co.